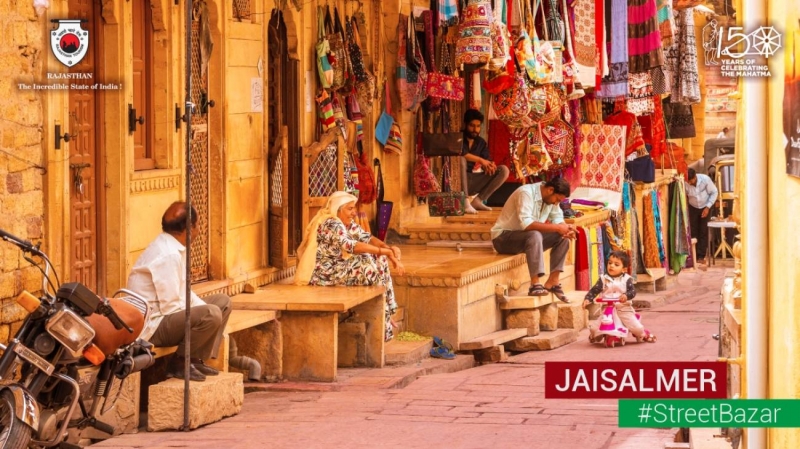 100K Followers' Growth on Instagram for the Largest Tourism Brand of India – Rajasthan Tourism – Despite COVID
Managed by CREATIVE INC, a leading Creative agency with a specialised Social Media Marketing department, Rajasthan Tourism clocks an amazing growth of followers on all major platforms with Instagram taking the lead
Where there is a will, there is a way! That's precisely what CREATIVE INC. – one of India's leading digital marketing agencies demonstrated in managing the tourism face of the country – Rajasthan Tourism!
At a time when the tourism industry across the globe had come to a standstill due to the COVID-19 pandemic and its restrictions, Rajasthan Tourism dared to create ripples in otherwise still waters. CREATIVE INC. the newly appointed social media agency was asked to proposed a unique social media strategy which the agency got some of its best brains on. A unique multi-layered social media strategy was created with stage wise objectives spanning awareness, consideration, engagement and conversions.
Getting the numbers rolling was though a daunting task but not an impossible one. CREATIVE INC. from the very first day of their engagement with the brand started working on developing interesting campaigns that not just showcase the tourism potential of the state but also pique the audiences' interest in every aspect of Rajasthan.
CREATIVE INC. - over a period of short span of time, put forth some highly engaging social media campaigns for the brand. Their campaign titled 'Experience Rajasthan from Home' was an instant hit among the netizens as the campaign captured the interest of travellers from an aspirational point of view. Despite being locked at home, people could still enjoy a virtual tour of every nook and corner of Rajasthan; experience the state's culture; art & craft; food, as well as shopping destinations. This was followed by many engagement campaigns across platforms like Facebook, Instagram, Pinterest, Snapchat, Tumblr, YouTube, etc.
Another highly effective campaign that contributed in a lot of eyeball hits as well as media talkpoint was 'Boli Rajasthan Ki'. Through this campaign, CREATIVE INC. brought several tourism brands of the country together to showcase and take pride on their language. The fact that India is synonymous
with hospitality and that every state speaks one language after all … 'Welcome and the Guest
is God!'
Many other innovative campaigns were high on public engagement like 'Jaipur on a Bicycle' as well as 'Travel Diaries' – a series of travel videos shot by domestic tourists exploring Rajasthan.
CREATIVE INC is a leading advertising agency since 199 and has several specialised departments: Brand management, Digital marketing, Social Media Marketing and Event Management. The agency also has a legacy as a top Creative agency and has been at the forefront of powerful digital marketing strategies and creative content for many tourism brands in the past as well. The agency has the track record of working with top international tourism accounts like Visit Britain, Tourism Authority of Thailand and Tourism Authority of Seychelles as well as Delhi Tourism as a branding and/or digital agency and that is what makes the agency's approach heartfelt and on point.