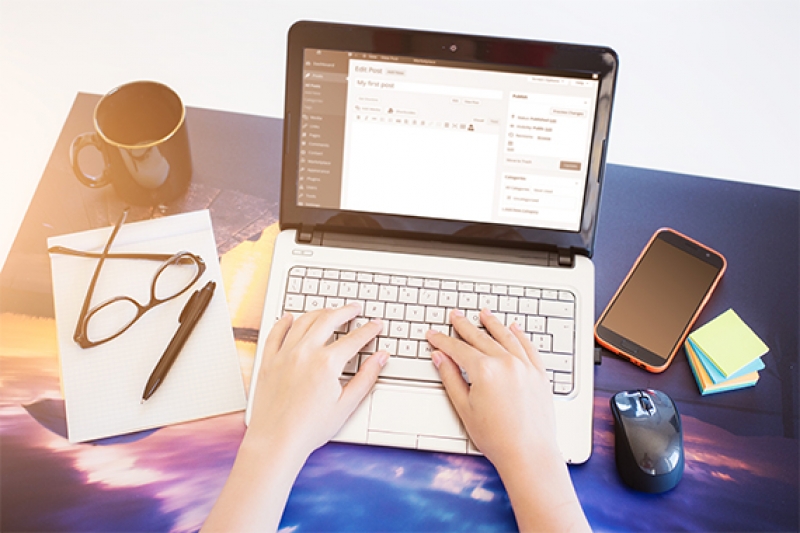 New Delhi, India, October 2020: Social media has become an important part of our lives today. Everything we do, is perpetually on the internet for our family and friends to know. It is the newest way of keeping people informed about one's whereabouts! It is also a channel mostly used by brands to keep their audience engaged. In fact, you must have noticed that these days, there has been a considerable increase in the use of various social media platforms like Facebook, Instagram, Twitter, YouTube, Snapchat, Pinterest, Tumblr, etc. and our social media accounts each day get flooded with posts, videos, GIFs, etc. It might have caught your attention too that some of these posts, videos, GIFs get a lot of 'Like', 'Views' and 'Share' while some do not. There's a reason for that too! It totally depends on the content that one wants to showcase. By content, we mean not just the idea but the messaging too! Hence, it is extremely important that we are careful when it comes to writing social media copy. In fact, this has become a crucial aspect that most social media marketing or digital marketing agencies include in their social media strategies when they pitch for a new account. I can understand there might be a lot of questions boggling you. But, how can one do so? Don't worry! Here are simple ways to master the art of social media copy writing.
Decide on the writing style when it comes to social media copy: Writing for social media is a lot different from writing for other purposes. First decide on the tone you wish to use for writing. You might not want to write the same way for social media as you do for the website or other communication. Social media gives you the opportunity to show the world the 'playful' side of a brand. Use simple, non-serious and casual language that the audience would want to read. Make them grab the attention instantly! That is precisely why, some of the most creative minds of best marketing agencies create award-winning social media campaigns. There is no set pattern for one to follow, create your own and always change the style to break monotony.
Be clear on what you wish to achieve with the social media post: The purpose of using varied social media platforms is different. Your objective might change with every platform you use – one could focus more on branding, while the other might focus on increasing the click or conversions. Once you have complete clarity on what you have set out to achieve, mould your copy to achieve the result.
Ensure you write differently for different social media platforms: Write separate copies for each platform because each social media network serves different needs to different audience. This means writing for Twitter should be different from that of LinkedIn, Instagram or Facebook. Platforms like Twitter and Instagram can be leveraged real-time and are mostly used for live updates, hence, the copy should be crisp and accompanied by an image. Facebook and LinkedIn give you the scope to add more photographs and tag more people. In all cases the copy should be direct, casual and short. That is why most brands today appoint social media marketing agencies to do this for them.
Make your copy engaging: Keeping the audience engaged always is the key. Hence, brands today use a lot of contests and other curated content to stay on the audience's top of the mind. Keeping them informed, involving them or by asking them to contribute and participate, brands today are engaging their audience well.
Use relevant visuals to enhance your copy: Visuals enhance the content, hence, it is extremely crucial that relevant images are used to support the copy. Remember, visuals add character to what you write in the social media post. So, ensure the images are apt.
Be judicious in using hashtag and emojis: While hashtags and emoji's can add to your social media copy but overusing them can also kill the purpose. It is very important that there is a balance of use – do not post one creative with numerous hashtags while the next post has no hashtags. The same goes for emojis too!
Follow the social media trends closely: Lastly and most importantly, as a person in charge for social media copy writing at a digital marketing agency, it is important that you are very active on social media and follow trending accounts.
ABOUT CREATIVE INC.
An integrated branding agency that works extensively towards building brands through effective strategies on Brand Management, Digital Marketing, Social Media, as well as other offline marketing approaches like print, broadcast and events. The agency has five core services areas across the entire gamut of not just market readiness but also a complete 'go-to-market'. CREATIVE INC. has won innumerable awards and recognitions for its work in both India as well as international markets and has success stories like Discovery Channel, Animal Planet, Oriflame India, Schneider Electric, Ministry of Tourism, Rajasthan Tourism, Delhi Tourism and TATA to name a few.