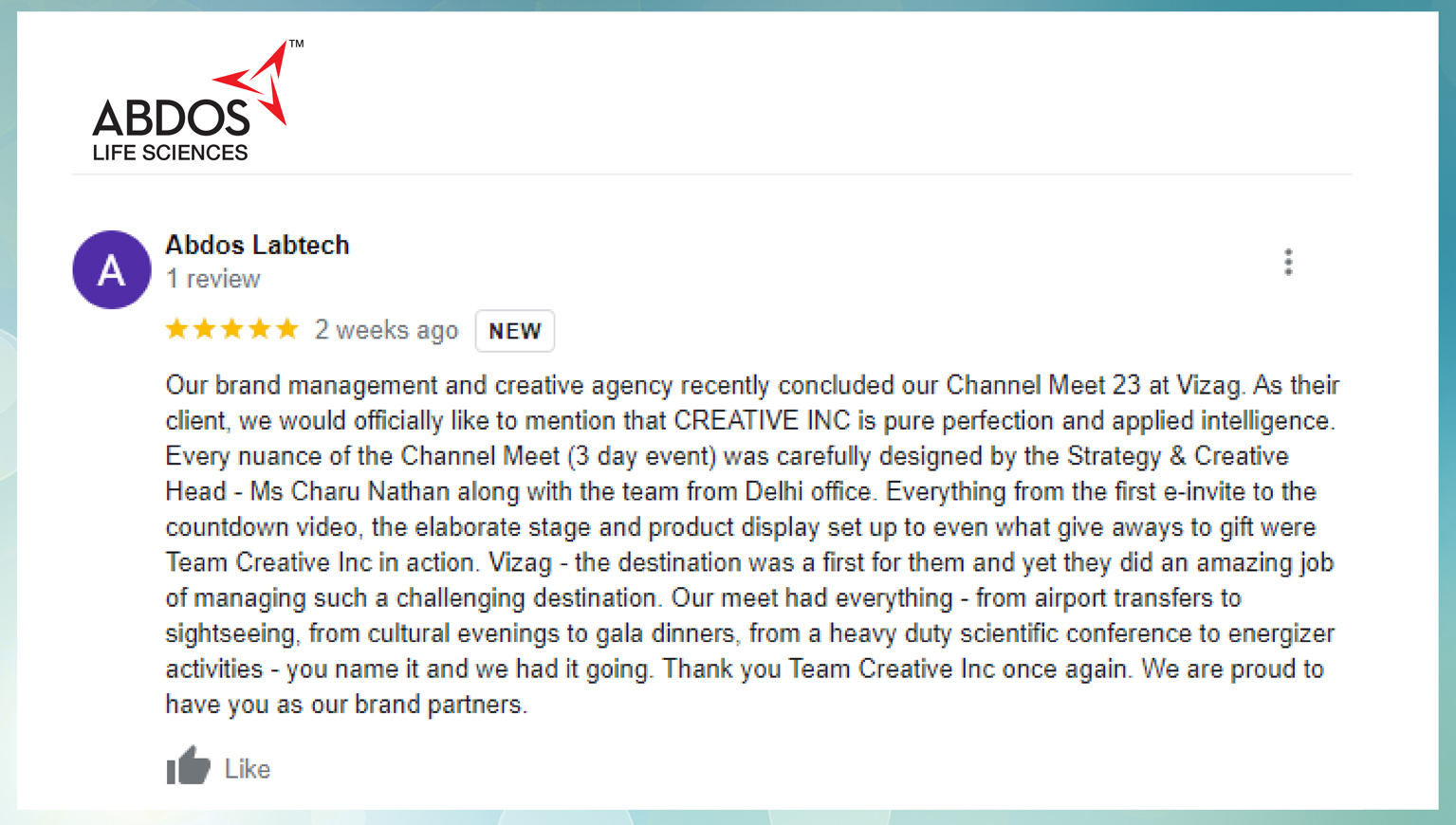 Google Reviews… What is the hullabaloo all about?
Says a digital marketing enthusiast at CREATIVE INC – India's rockin' marketing agency
Your clients are busy juggling many tasks, including developing their product or service, managing internal teams, managing customer requests, and worrying about business. They might just be too too busy to even look at their Google reviews. And voila, comes a day when they are struck by a less than 4 or worst rating with pretty much negative reviews from ex-employees (read disgruntled), vendors, clients and maybe a host of guys they don't know anything about. Today, everyone has a voice or at least thinks so. At CREATIVE INC… the leading integrated marketing agency that continuously attracts and hires fresh talent, even if a candidate is rejected, he or she will vent it out by posting a 'truly frustrated' Google review.
The big question: how do we actively manage Google reviews? Can't we just let them roll in? Basically, ignore them?
The answer: NO, this can't be ignored no matter who you are!
Three reasons why are right here friends…
Google reviews build or break trust
Today's customers have a lot more faith in recommendations from peers compared to advertising. In fact, 78% say that they trust peer recommendations, while only 14% trust advertising. Online reviews are perceived as a kind of peer recommendation and are therefore far more trustworthy in the eyes of customers than, say, ad copy. An essential Google review management concept is the collection of positive reviews. As your clients build up more positive reviews, they will be giving their prospective customers more reasons to trust their business, product, or service.
SEO gets going dudes…
A business's Google Business Profile has an impact on how highly that business can rank on Google's search engine results pages. That's why Google Business Profile (formerly Google My Business) review management shouldn't be neglected by any organization that wishes to be easily discoverable by its target audience online. A steady stream of positive reviews gives Google a signal that the business is relevant and reputable, and therefore worthy of a top spot in search results. As you manage your Google reviews and build up lots of positive ones, you should see an SEO boost, says our Head Strategy at the leading marketing agency behind several successes.
Comprehensive marketing strategy that works!
As anyone delivering marketing agency functions or services will know, using a variety of marketing strategies produces a result that is more than the sum of its part. Yes, Google review management has many positive effects on its own. However, it's even more powerful when it complements excellent ad campaigns, top-notch social media management, SEO efforts, and more.