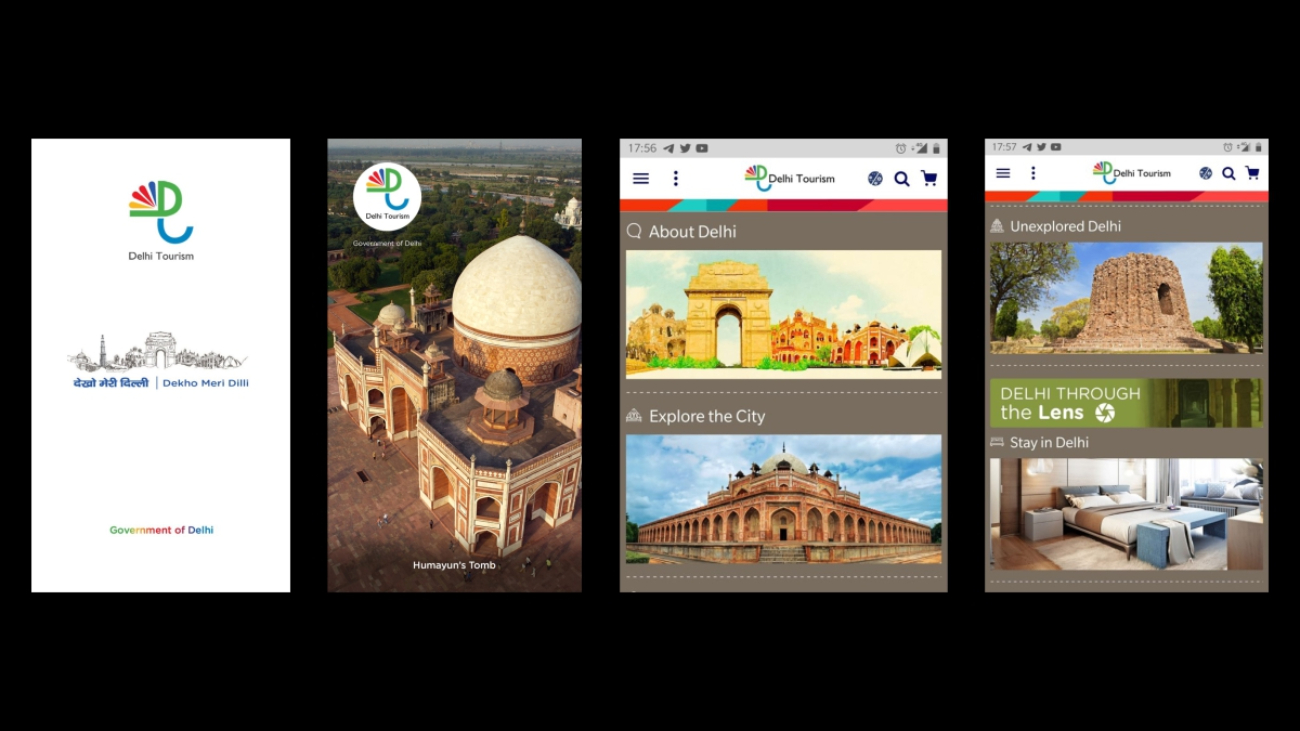 Leading Branding and Digital Marketing Agency, CREATIVE INC. launches the 'Dekho Meri Dilli' Mobile App for Delhi Tourism on World Tourism Day 2021!
By Bahnik Biswas, Head – Operations & Copy Desk, CREATIVE INC. of a leading global and integrated Brand Management and Digital Marketing agency
Travelling is a learning experience. It takes you to new places, makes you meet new people, teaches you about their cultures, traditions, cuisines, heritage, etc. That is an experience you get to feel once you have already reached the place. What if, there was a way you got a glimpse of it all before travelling! Sounds impossible! Not anymore! Technology today has made everything possible. Nowadays, you do not have to travel with a physical map or a directory of any place to have access to directions, tourist destinations, important contacts, etc. You have an app for it. Yes you read it right!
Keeping all the challenges that every tourist faces while travelling in mind, the Tourism Department of Government of NCT of Delhi had planned to come up with a 'one-stop-shop' experience through a highly interactive and world-class mobile app. And CREATIVE INC., the best marketing agency in Delhi was roped in by the department to develop and launch the app. In collaboration with Paras Arts Studio, CREATIVE INC was the brain behind the creation of this wonderful platform.
The mobile app titled – 'Dekho Meri Dilli' has been created to act as a ready reckoner for travellers providing them all kinds of useful information pertaining to the capital city, its tourism locations, the, important contact details, etc. Several months of research and tireless efforts of the creative and mobile app development teams of CREATIVE INC. have been behind the creation of this all-in-one tourism app. It had to be unique from the very word go. Hence, after much deliberations, it was decided that the app would have interesting and unique features embedded. Over and above the famous tourist places, the Delhi Tourism app also disseminates information related to the best places to eat, shop, stay within the city. What makes this app unique, are its 'Plan Your Tour' and 'Places Near Me' features which will help tourists travel at their convenience.
The application also makes it hassle-free for tourists to book tickets easily for all Archaeological Survey of India (ASI) and Delhi Tourism properties. In fact, it intends to make travel easy through its navigation by maps feature. Besides this, links have also been provided throughout the app for additional assistance if required by any traveller. Another unique feature of the app includes the 'Delhi through the Lens' where a tourist can scan and available know-how about anything at their fingertips. A 5-minute time lapse video about Delhi has also been made available on the app to give you a virtual experience of the city before you experience it for real.
Everything you need to know about Delhi is all on one app now!
CREATIVE INC. has been at the forefront of powerful digital marketing strategies and social media marketing for many tourism brands in the past as well. The agency has the track record of working with top international tourism accounts like Visit Britain, Tourism Authority of Thailand and Tourism Authority of Seychelles as well as Rajasthan Tourism as a creative agency and that is what makes the agency's approach logical and on point.