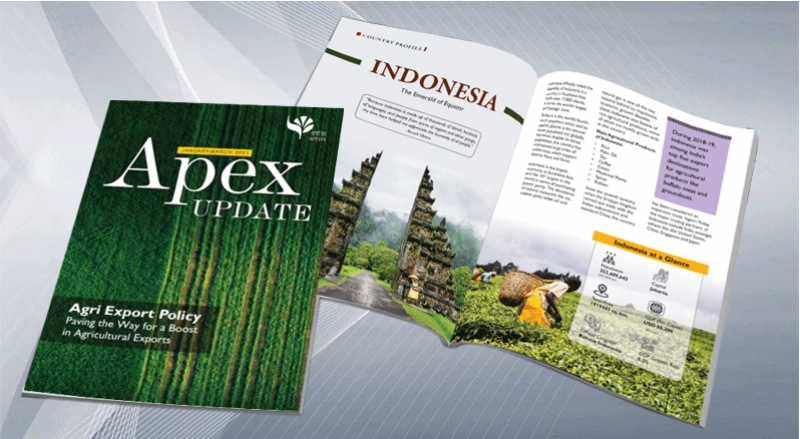 CREATIVE INC – INDIA'S TOP CREATIVE AGENCY BAGS THE DESIGN AND DIGITAL MANDATE FOR APEDA'S PRESTIGIOUS e-MAGAZINE – 'APEX UPDATE'
By Bahnik Biswas, Head – Operations & Copy Desk, CREATIVE INC. of a leading integrated Brand Management agency - CREATIVE INC.
One of India's leading branding and digital marketing agency – CREATIVE INC., won the creative design and digital mandate for 'e-APEX Update' – the prestigious quarterly magazine of the Agricultural and Processed Food Product Export Development Authority (APEDA) recently.
An apex body under the Ministry of Commerce & Industry, Government of India, APEDA is responsible for the export promotion of agricultural produce and processed food products from India. Through its prestigious quarterly e-magazine – 'APEX Update', the organisation endeavours to provide its primary ecosystem comprising importers, exporters, state governments, trade associations, etc. a common platform to establish linkage and do business seamlessly. It is a ready reckoner in terms of market insights, trade data, export and import figures, etc. APEDA decided to maximise its reach and ride the digital wave by converting it into an e-zine showcasing new features, new stories, etc. A multi-agency pitch was called in Delhi that saw participation from top Digital Marketing agencies.
The agency's strong foothold in the agri and processed food products industry gave it an edge over the rest. The agency's Delhi office will be managing the project.
Commenting on the win, Ms. Nathan, the Strategy and Creative Head of the agency said, "we are all aware of the reality that the human race has gone digital and more specifically mobile. Smartphones were adopted in a relatively short amount of time and have great influence on consumers. Additionally, this increased mobile usage has led to an increase in the consumption of digital content.
According to a recent study, more than 81% of literate human beings still read magazines and an increasing number of them are doing so on tablets and smartphones. The report goes on to say that 1 in
12 tablet/smart phone owner reads digital magazines daily, and magazine apps frequently top the iPad charts in categories like Lifestyle, Health and Fitness, and News. So when APEDA decided to launch an e-mag to promote the export of Indian agri products, team CREATIVE INC pitched in the concept of the benefits of going 'e' as well as smart concepts on how to launch and grow an e-magazine meant for the global audiences."
The agency's digital marketing division that works extensively on social media marketing as well collaborated with the editorial team to win this pitch.
CREATIVE INC. has six offices with three of them in India and the other three in the UAE and Muscat. The agency has a unique mix of talent wrt social media marketing, digital marketing and brand management for new products and services. The agency offers holistic bouquet of services across the digital marketing landscape to brands across agri retail products, healthcare, fashion, tourism and education.