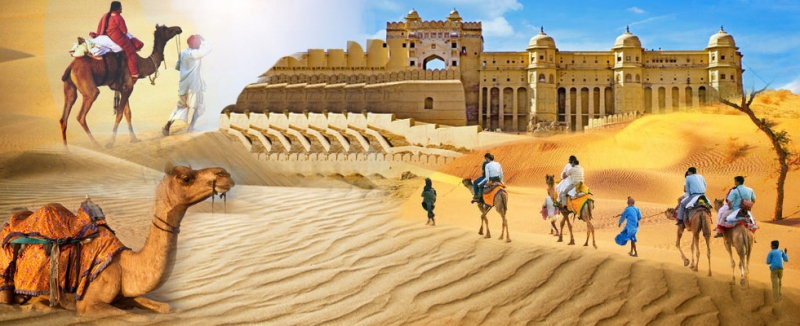 INDIA's TOP CREATIVE AGENCY - CREATIVE INC's DELHI WINS THE PRESTIGIOUS SOCIAL MEDIA MARKETING MANDATE FOR RAJASTHAN TOURISM
CREATIVE INC., a leading digital marketing and branding agency, has been recently awarded with the social media marketing mandate for Rajasthan Tourism - the state government's official tourism platforms.
The state is the face of Indian Tourism and has a lot to offer to tourists. Rajasthan has also been the recipient of the Tourism Excellence Award for being the best state in the tourism sector. It is especially recognized for its heritage hotels and the initiatives to boost infrastructure as well as fairs and festivals.
CREATIVE INC won this account in a multi-agency pitch carried over weeks. The mandate for the social media agency is to promote Rajasthan as both a domestic and international tourist destination and build the brand holistically.
Charu Nathan, the Creative Strategy Head at the digital agency's India and Middle East offices who led the pitch, revealed that their experience with the tourism sector played a big role in helping them win the Rajasthan Tourism account.
"Tourism is one of the world's largest industries and is extremely competitive. This means that whether it is a country trying to attract tourists or state, the partner digital marketing agency need to create strategies that appeal as well as stand out from the herd. Marketing is essential for achieving this and many of the best tourism marketing tips focus on helping tourism brands to find several 'Reasons to Connect' and promote them. Of course, it is also crucial that social media marketing approaches keep up with the latest trends, so that a diverse marketing mix is created. It is not just about getting the message out. It is about getting the biggest bang for the buck," said Charu Nathan, Creative Strategy Director for the agency.
"To successfully work in tourism, one needs to tap into the tourist's mindset and find out what appeals to them. Our extensive research with the local, domestic as well as international tourists helped us gain insights into a 'traveller's mind'. This was the start of a winning pitch", added Aastha Kataria who is the Account Lead from the Delhi office.
With this account acquisition, CREATIVE INC would be building a presence at Jaipur and position certain talent in the city.
CREATIVE INC. now has six offices with three of them in India and the other three in the UAE and Muscat. Resources here are holistically trained in all aspects of digital marketing, with a special focus on social media branding & communications. The agency offers holistic bouquet of services across the digital marketing landscape to brands across tourism, healthcare, fashion and education.
Image: Rajasthan Tour Planner