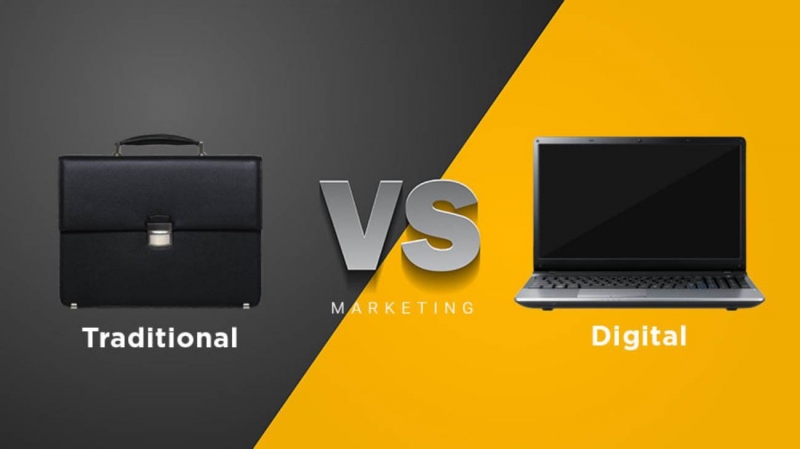 Will Digital Marketing Replace Traditional Marketing?
Excerpts of an interesting debate between the digital marketing agency experts and the brand strategy team
When we talk about marketing we have several distinct channels which widely fall into two categories - digital marketing and traditional marketing. Businesses use both types of marketing according to their product, needs, time, location and target audience, says most erstwhile ad agencies and today's digital marketing agencies. In past years the digital presence has increased rapidly. If we talk about India, 50% of the total population was already there on the internet by 2020 which is relatively a large number as compared to 7.5% in 2010. Therefore a question arises very often and is debated by creative agencies…
Will digital marketing replace the traditional form of marketing? First, let's look at the various aspects of both forms of marketing for a better understanding…
Digital Marketing & its nuances
With how accessible the internet is today, the number of people who go online every day is still increasing!
Consumers are receiving ad engaging with content differently now. We are on our phones constantly and surfing the social media for information. This is what brands leverage via social media marketing.
Marketing has always been about connecting with your audience in the right place and at the right time. Today, that means you need to meet them where they are already spending time: on the internet. And then there is this important aspect of cost per impression and cost per acquisition – both of which make better sense the digital way!
Let's Understand Traditional Marketing
Traditional marketing uses channels like print, broadcast, direct mail, outdoor marketing, etc. One or multiple channels are chosen for marketing according to the target audience and market objectives. These forms of advertising were developed long before the development and rise of the internet. In fact for certain sectors that are very B2C driven, and where brand preferences rule the roost… traditional marketing still occupies premium numbers on the marketing plan. Example all cola brands, all major consumer appliances brands, all FMCG brands.
Will Digital Marketing Ever Replace Traditional Marketing
This question looks like a yes or no question… but it's not and if it is the answer is both yes and no. And this question actually opened a huge debate at CREATIVE INC – India's leading digital first creative agency!
"We started out as a conventional ad agency. Almost 6-7 years ago, we realized that if we don't move fast on the digital highway and open our minds and skillsets… we ain't going anywhere. Digital has brought about a seismic shift in the way we approach our potential customers, placing more control in their hands when it comes to how they consume their advertising. Though there are plenty of differences between traditional and digital that are worth discussing, here are three key points that stand out;
More Empowered Customer

More Accurate Metrics/Data Driven Decisions

More Exact Demographics & Reach
Says Charu Nathan – Head of Creative & Strategy at the agency that is a blend of conventional and digital marketing.
If you ask us… digital marketing will not replace traditional marketing but will fuse to form more hybrid forms of marketing. For example - Digital Billboards can display designed creatives and ads but are a channel for outdoor marketing too. Apart from that direct mail marketing is replaced by e-mail marketing but works pretty much the same with just more content to add. So, like that only traditional channels of marketing will not be replaced by digital channels but they will transform into new avatars some of which cannot even imagine right now.
Image: SimpliLearn