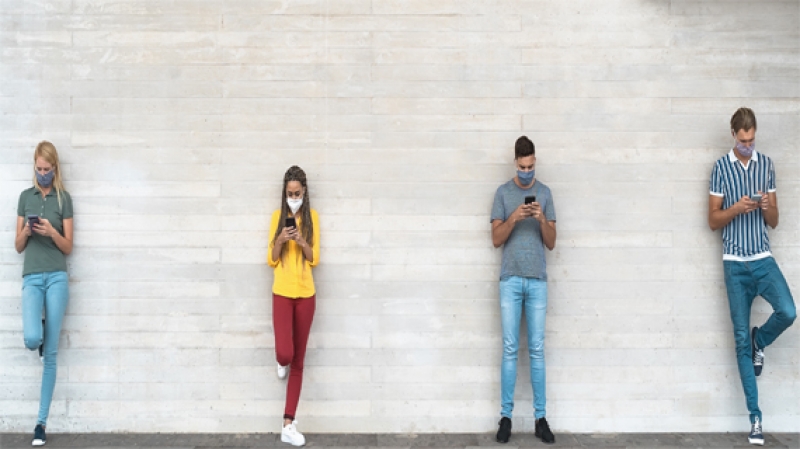 Social Distancing and Social Media: Do They Go Hand-in-Hand?
By Bahnik Biswas, Head – Operations & Copy Desk, CREATIVE INC.
Yes, you read it right! Do they really? How can that be possible? Did they even exist a couple of years back? If they did, weren't they supposed to be a decade apart?
Yes, I can understand the battery of questions rushing in your minds. I faced the same too but a closer look at the two terms actually helped me derive a conclusion.
A little research on both enlightened me on the fact that both were terms that co-existed all this while. The origin of the term 'social media' can be traced back to the early 90s while its newest partner, 'social distancing' can be traced back to the early 2000s. Little did the world then know that these two terms would have such lasting impact in 2020.
With traditional marketing communications taking a backseat and digital marketing coming to the foreground, time was about to change. There was a boom in the market. Brands globally were suddenly in need of creative digital marketing agencies to explore the new platform and scale up their businesses. That paved the way for the birth of numerous social media marketing agencies who would help brands make the most of platforms like Facebook, Twitter, Instagram, Pinterest, Snapchat, etc. and reach out to maximum audience. Digital marketing agencies have today broadened the horizon for many brands through effective social media campaigns. The world was just getting used to this term and enjoying the benefits it was offering when COVID-19 made its presence felt.
With Corona outbursts in almost every part of the world, suddenly people got to know about 'social distancing', a need of the hour to curb the spread of the pandemic COVID-19. It brought with it strict guidelines of maintaining 6 feet distance between individuals, staying at home, wearing masks, washing hands with soap/alcohol-based hand sanitisers, and much more from various health and safety entities. In no time, the term had created a large impact on everyone's life.
But, the question is how does social media and social distancing go hand-in-hand?
Well, the answer is very simple. Social distancing with its do's and don'ts has limited everybody to their homes. This has left people with no choice but to turn to social media as their primary means of communication with friends, platform for gaining information, mode of entertainment, and in some cases, doing business too! With governments across the globe propagating social distancing and staying home as key, people are forced to rely heavily on social media and eCommerce portals for all their requirements. Taking a cue from the real-life situation we are all in at this point of time, I have tried to come to a conclusion that social media and social distancing in deed go hand-in-hand. Here's how that's possible:
It's About Being Socially Distant but Being Socially Connected: In the wake of COVID-19, individuals might find themselves self-isolated from their friends and family but through technology and social media can stay connected all the time.
It's About Practicing Social Distancing and Helping Stop the Spread: Social distancing might compel you to stay in your house but it is actually doing you greater good to the society. Staying at home can make you learn new things, gather the information instantly for which you might have had to go out of your house, gain a new skill via online classes all through social media.
It's About Being Socially Distant but Being Professionally Productive: Corona outbursts might have locked us in our houses and made us 'work from home' but it has not decreased the productivity levels of people. Now every meeting, every business conversation can be held over social media platforms helping everyone take decisions faster without the hassle of having to travel across the city or across the globe.
It's About Practicing Social Distancing and Fulfilling Needs through Social Media: Social media platforms has helped people to fetch basic amenities easily even during such testing times. That's why even if your local market is closed because of lockdown, you can still get your grocery from the likes of the Grofers or the BigBaskets of the world.
These are just a few examples that I hope will help you come to the same conclusion as mine.
Happy reading!