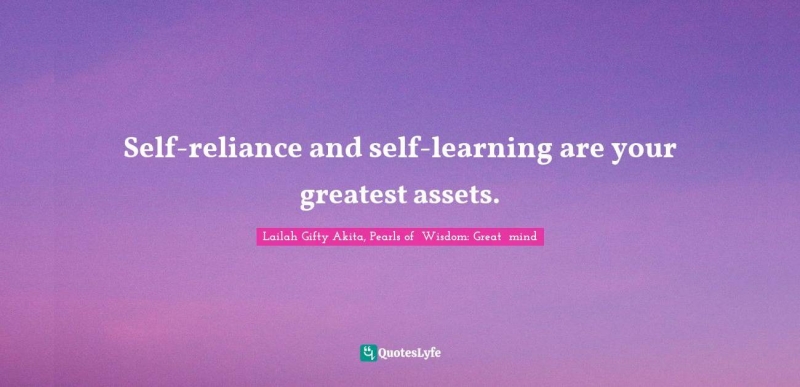 Make Self-Learning Effective
Another chapter in indulgent learning by Charu Nathan – Head of Creative Strategy, CREATIVE INC – a leading creative agency with specialized verticals in Digital Marketing
It has been an interesting day today. I always keep talking to my team members about doing it differently, not taking the straight line, thinking like there is no box and challenging oneself to not follow the cliché. Yet, in today's business world, we are all trained in herds, taught processes and packaged to deliver. Then obviously, don't we forget to dare, approach things differently and experiment?
What sets us back?
Fear of failure? Fear of being told, "I told you so!!!"
I chanced upon this interesting quote recently, "Where there are gaps in knowledge, fear fills the void!" And that again got me thinking, of course everyone will have those gaps. We all acquire knowledge as we move along and no one can claim that he/she knows it all.
So what really can we do to add/acquire more knowledge? I'd say "SELF-LEARN".
I am sure some of you are saying, C'mon!!! Where is the time?
I agree and I am also aware that the term 'self-learning' can be a little daunting as it requires some sort of 'me' time away from whatever you do to put that loaf of bread (and butter!!!) on your plate. However, if we want to achieve your aspirations and stay relevant in an
ever-changing world, self-learning is critical. You do not realize it but you are doing it already. You've learnt how to work from home; how to survive the pandemic; how to do zoom meetings, maybe even how to do the laundry, and so much more.
So, my question is, "if you can learn what is imperative, what is needed for existence… then why not self-learn what will truly set you apart?"
Why always take the simpler shorter route?
I am pretty sure that you know at least one self-made individual who stood out and made their skills known and appreciable, for example Nikola Tesla and Steve Jobs. Although self-learning was considered a great feat some time back, it is no longer as difficult as it once was. With huge amounts of free resources and access to hundreds of content sources, all you need is to put a small amount of time and energy into learning something new.
And, guess what? It is infectious! I also read in Harvard Business Review that we 'rarely grow alone' and that we are better equipped to learn and extend our knowledge as a collective.
So ask yourself every day, did I again just walk the dotted line or did I dare? Have I learnt something new today? Trust me, there is a learning in failing too.
CREATIVE INC is a 25-year-young branding agency that believes in deriving the culture of self-learning as well as extending that knowledge as a collective. The creative agency has four core verticals comprising Brand Strategy & Management | Digital Marketing | Social Media Marketing and Event Management.
Adios.
Image: QuotesLyfe